Having the unique opportunity to participate in HI-SEAS, I wanted to be able to capture every aspect of the mission. Here are the tools I've used to chronicle me experience here. If you've been following along you may know a little bit about my kit, but here is a mini-review of each one.

1. Olympus OM-D EM-5 (McBain)
This is my main camera for the mission, which I purchased specifically for taking stills and time lapses. The entirety of the photos in my Flickr Albums were taken with this camera. This is my first interchangeable lens camera (it's an Olympus micro-4/3rds camera), and I've had a lot of fun playing with a range of lenses (see below).
2. iPhone 5s 64 GB (Apple)
This is my daily smartphone, and to adapt it for the mission I popped out the SIM card and run it in airplane mode. I use it sparingly for posting updates on Instagram, Facebook, and Twitter! It's also used as my podcast and music listening device of choice, and there are a few apps that I purchased specifically for the mission.
The app that it's currently running is Triggertrap Mobile app, which turns my iPhone into a very flexible intervalometer for doing time lapses (like this one) and long-exposures like this: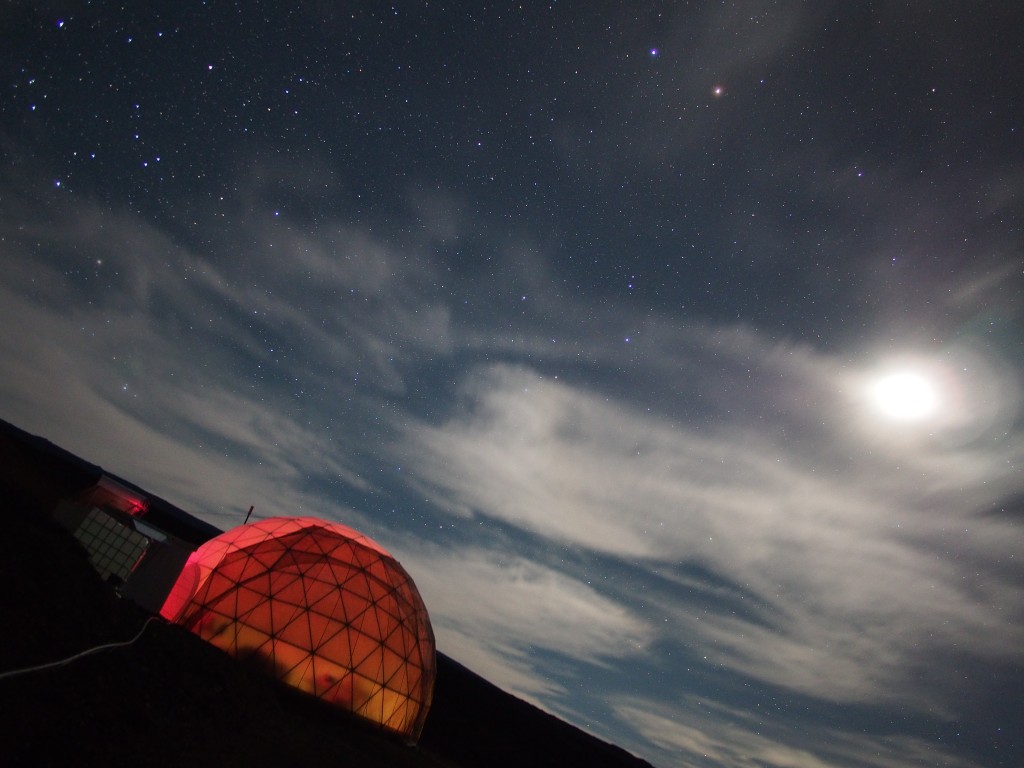 3. Triggertrap Mobile Dongle (Triggertrap)
The Triggertrap Mobile Dongle is a simple cable that connects my iPhone (with the Triggertrap Mobile app) to my Olympus camera. That being said, it offers me a powerful set of tools (and I feel like I've barely scratched the surface). In addition to timelapses and long exposures, the Triggertrap offered me something that I didn't even consider prior to the mission: the ability to operate my camera while in a spacesuit. This was especially useful at night when we were developing hand signals while out on EVA, because I could use a stylus to operate the camera from the Triggertrap app: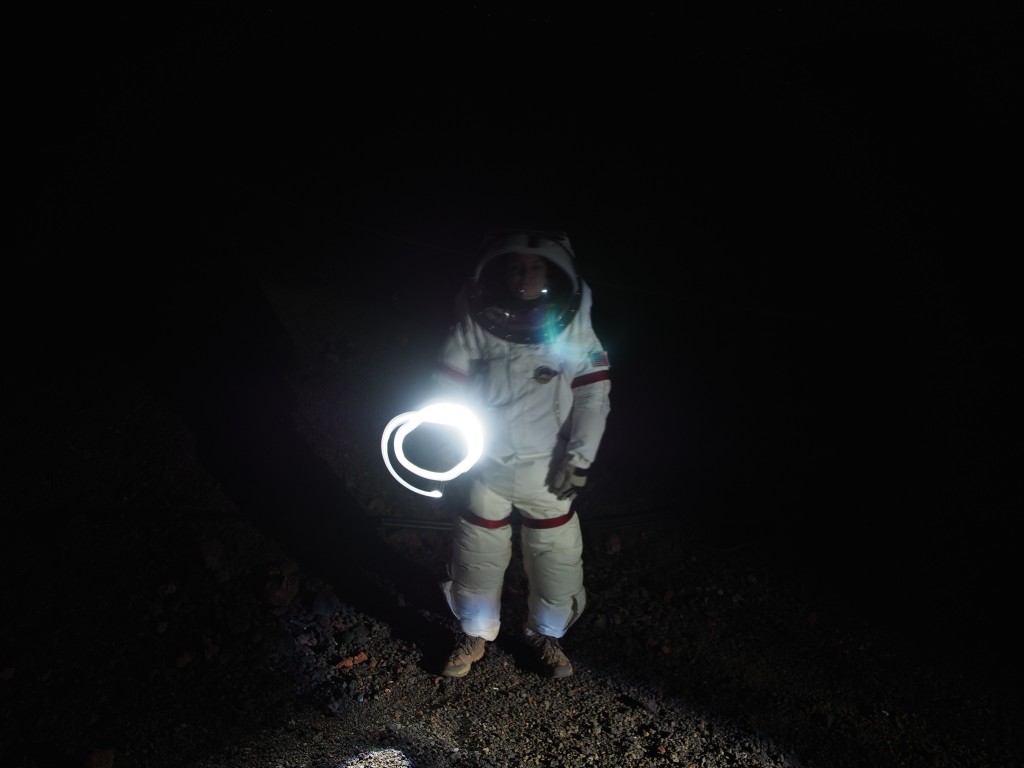 Although the Olympus camera has some incredible video settings, the GoPro proved useful because of it's size. In many photos of our EVAs, you can see participants wearing the GoPro on their helmets. This allowed us to record hands-free, or using the GoPole (see below) offered a unique perspective. Almost my entire LogiCON 2014 presentation was recorded with the GoPro.
5. iPad Mini Retina (Apple) with Otterbox Defender Series Case (Amazon)
The iPad mini served a very important purpose for us on our EVA missions. It was by far the easiest GPS device to use. Paired with the Otterbox Defender Series Case, the iPad took quite the beating while out on EVA, with no physical damage to the iPad itself. The app being displayed is GaiaGPS, which can incredibly download and save for offline viewing the entire Island of Hawaii's Google satellite view.
6. Apogee 96k MiC (Apple)
While rarely used, the Apogee MiC was originally purchased so I could record my own podcast while in the dome. Unfortunately, we were much busier than I anticipated, so there is only one episode available so far. I'll try to record another podcast post-mission.
7. Panasonic LUMIX 14mm F2.5 Lens (McBain)
The 14 mm lens is the most used lens in our arsenal, mainly because most of the photos that we take are either inside the habitat (and so close to the subject) or outside on EVA (and hence landscape). I'm very impressed with the performance of this lens, especially how quickly it autofocuses.
8. Olympus PEN MSC 45mm F1.8 Lens (McBain)
I bought the 45 mm lens after being blown away by the kinds of portraits it could shoot. Since it's a fixed focal length lens with a long focal distance, it means that to shoot a good photo, you have to be fairly far from the subject. In the habitat, that means you need to be halfway to the other side of the dome in order to get enough of your subject in the frame. My favourite photo from this lens is a portrait of Lucie Poulet: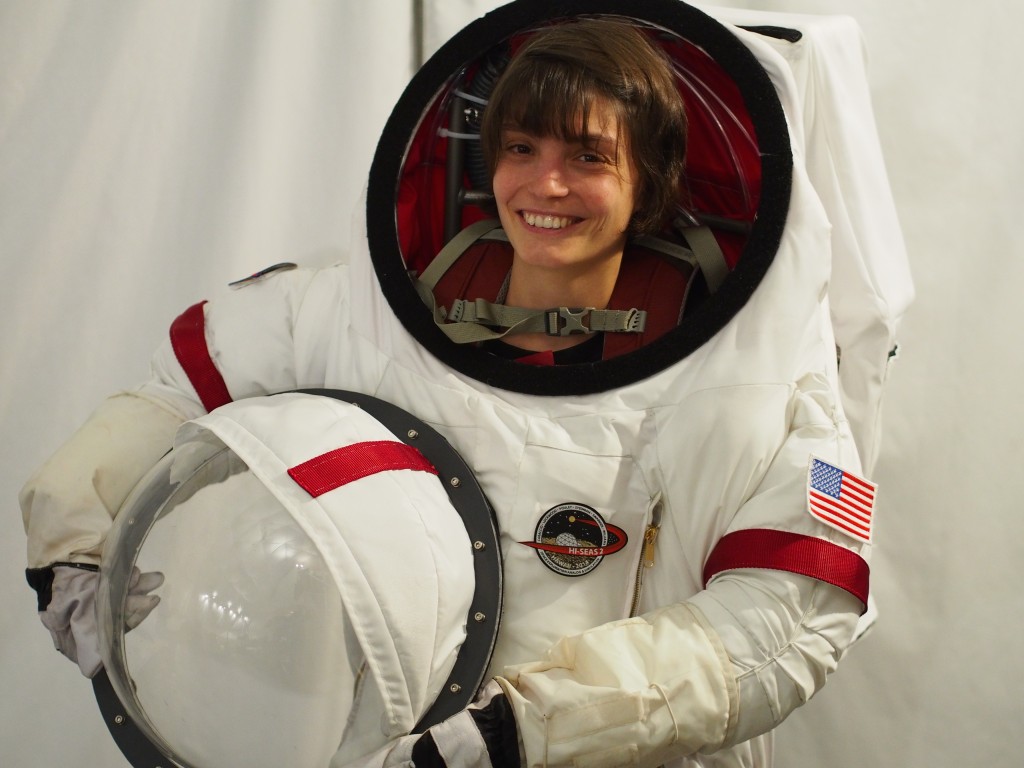 9. Canon 600 mm Zoom Lens (Courtesy of Dr. Ron Williams)
I used this lens on occasion for astrophotography, but unfortunately it's one of the most difficult lenses to operate in a spacesuit since it is a Canon lens on an adapter for the Olympus body. That means that focus and zoom are completely manual operations, which isn't an easy task when your trying to set up a shot of the Moon.
10. Olympus 12-40 mm Zoom Lens (McBain) in Nauticam Port & Zoom Ring Kit (International Diving Centre)
Another rarely used lens, this one came with the EM-5 as part of the kit. The Zoom Ring Kit lets me use this with the…
This is a proper scuba housing for the EM-5, and because there aren't lakes and oceans on Mars, I haven't been able to try this guy out to it's potential. I wanted to have the Nauticam housing so I could carry my camera on EVA and use all the controls with the thick EVA gloves on, but it ended up being to difficult to see the display through the back panel, so I only brought it out on a few occasions.
I am, however, looking forward to getting this kit wet scuba diving after the mission!
12. GoPole Grenade Grip (Futureshop) with GoPro The Frame (Amazon)
Just a handy little housing that I used for filming inside of the habitat. With The Frame, you get much better audio than you do with the regular waterproof GoPro housing, so most of my indoor footage was shot with the two in combination.
13. GoPro Quick Release Suction Cup (MemoryExpress)
Pretty straightforward little device. Press the suction cup against something smooth and go! We used the suction cup all the time when filming from within the MX-C suits, because we could stick it right to the helmet!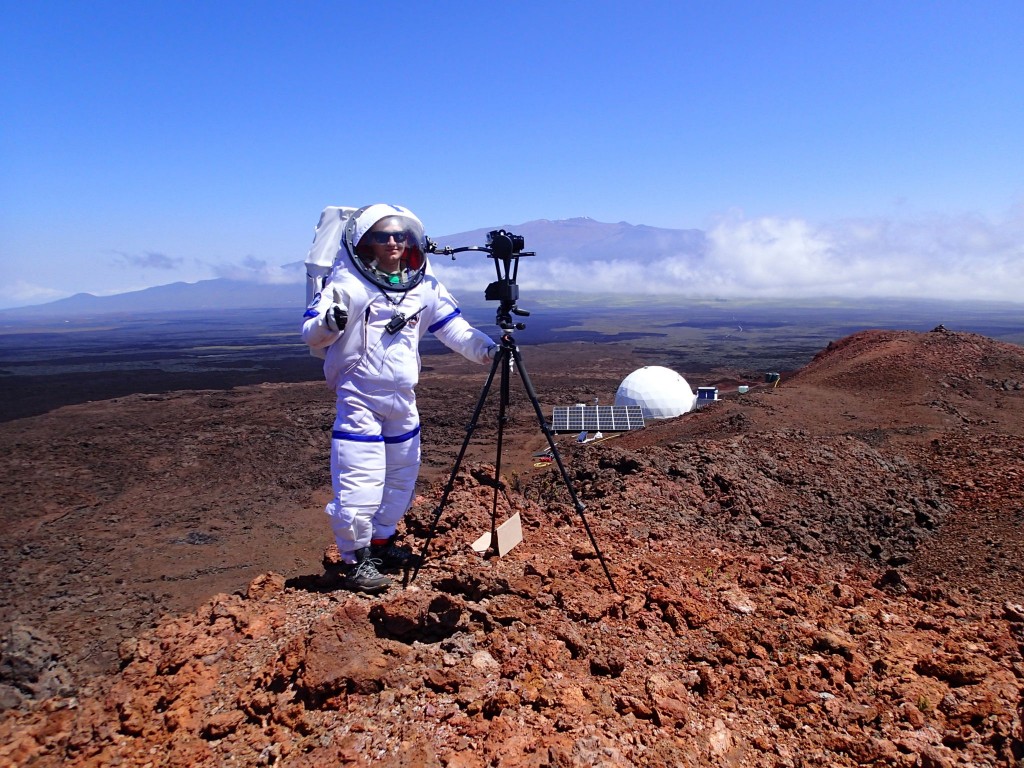 Purchased mainly to hold the Apogee MiC, the Gorillapod has been handy to quickly set up a GoPro for recording. Wherever the big tripod can't fit, the Gorillapod takes over.
15. GoPole REACH Telescoping Extension Pole (MemoryExpress)
This is the extension arm I use to shoot a lot of the outdoor footage in the LogiCON presentation. It allows you to get the GoPro far enough away so that you get your self(ie) in the frame, along with a lot of interesting landscapes!
This nifty little battery has come in handy for a variety of reasons. First of which, it's primary purpose, to charge things! I've used it to charge up my iPhone while running a timelapse, when a plug-in charger wouldn't cut it (on top of a mountain for example). The Power Pond has a built in flashlight, laser, and UV light as well, which have been used on several occasions (the next HI-SEAS crew should look for hidden messages written with laundry detergent (it fluoresces)).
Overall, my kit has served me very well with my outreach efforts, and there are still lots of pictures and videos that I haven't had the time to publish. Over the next year or so, expect that I'll be digging up a few photos and videos!