The HI-SEAS crew has been busy getting into routines here in the habitat, but one thing doesn't feel routine yet: leaving the dome. We've only been here for 18 days, and already we've completed 10 sorties, accomplishing a number of tasks on our Martian to-do list.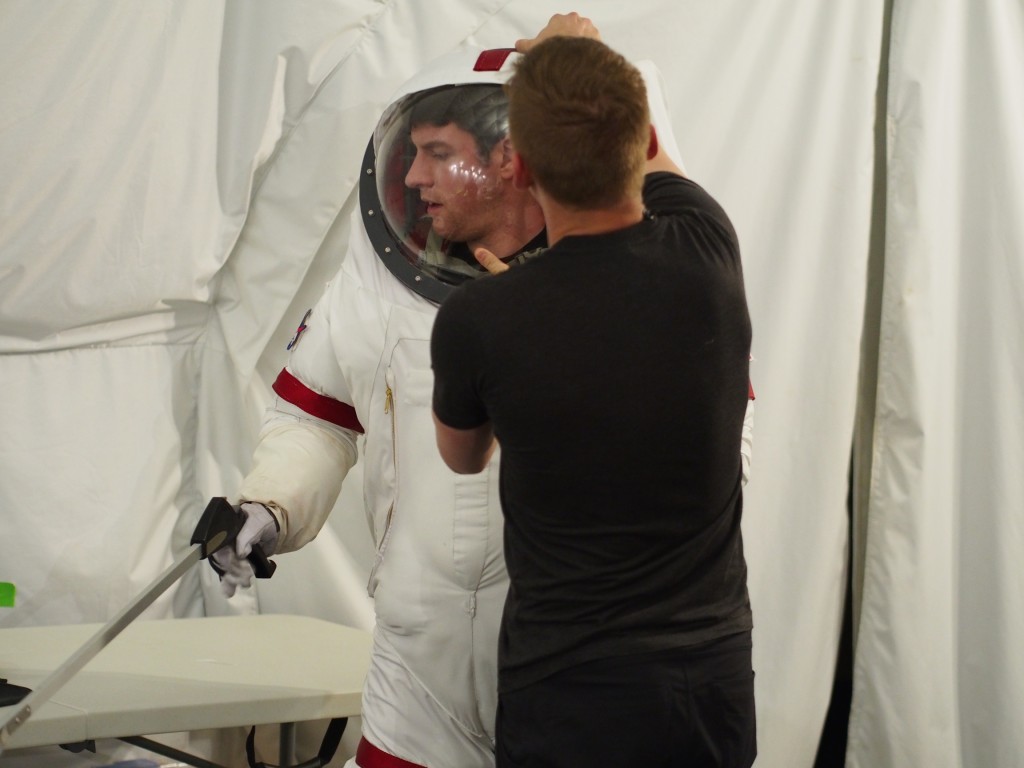 Extra Vehicular Activities, or EVAs for short, take a lot of preparation. Before we even get into our suits, we first need to send in an EVA plan to mission control and wait for their approval. Whether we are checking the water level in our storage tanks, or doing a photographic survey of the nearby terrain, we must have permission from our ground controllers first. Luckily, all of our plans have been approved.
On a recent EVA, we surveyed the terrain around the HI-SEAS habitat so that we could plan some longer explorations. You can see the GigaPan Image we created. You can also see the YouTube video I made: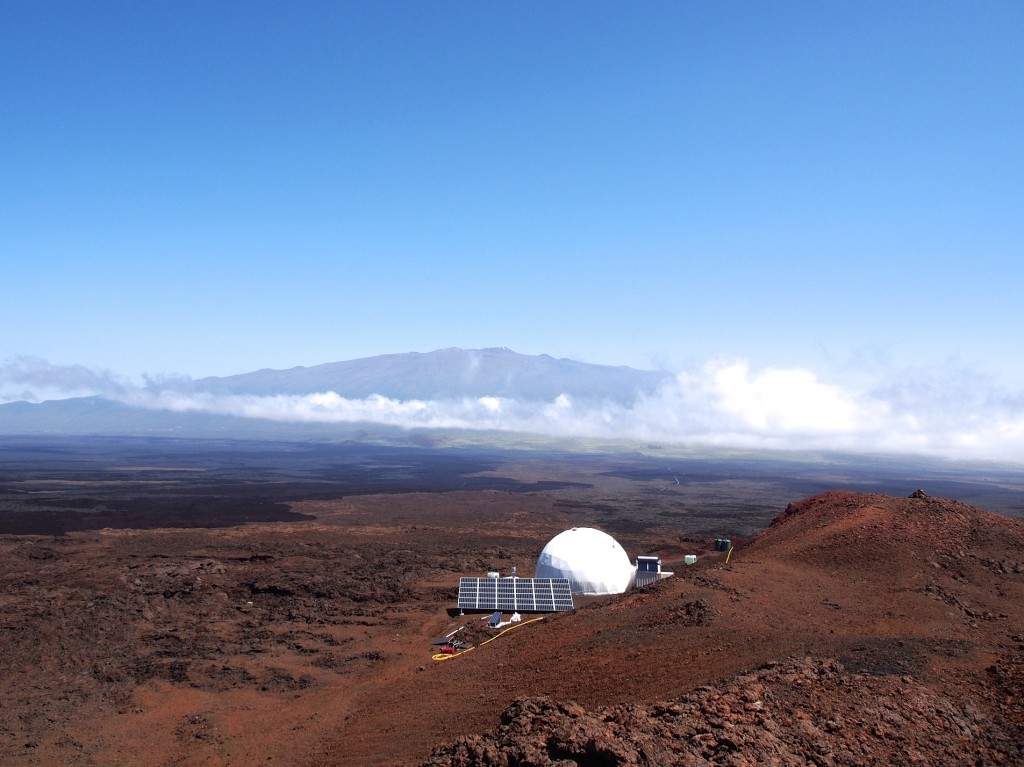 Each of the EVA suits weights upwards of 50 lbs. There are two main types of suits that we are using, modified hazmat suits, and my favourites, University of Maryland's MX-C suits. Internally, there are fans that blow fresh air throughout the suit, simulating a life support system, and on the MX-C there is a liquid cooling garment that we pump ice water through to keep the occupant cool.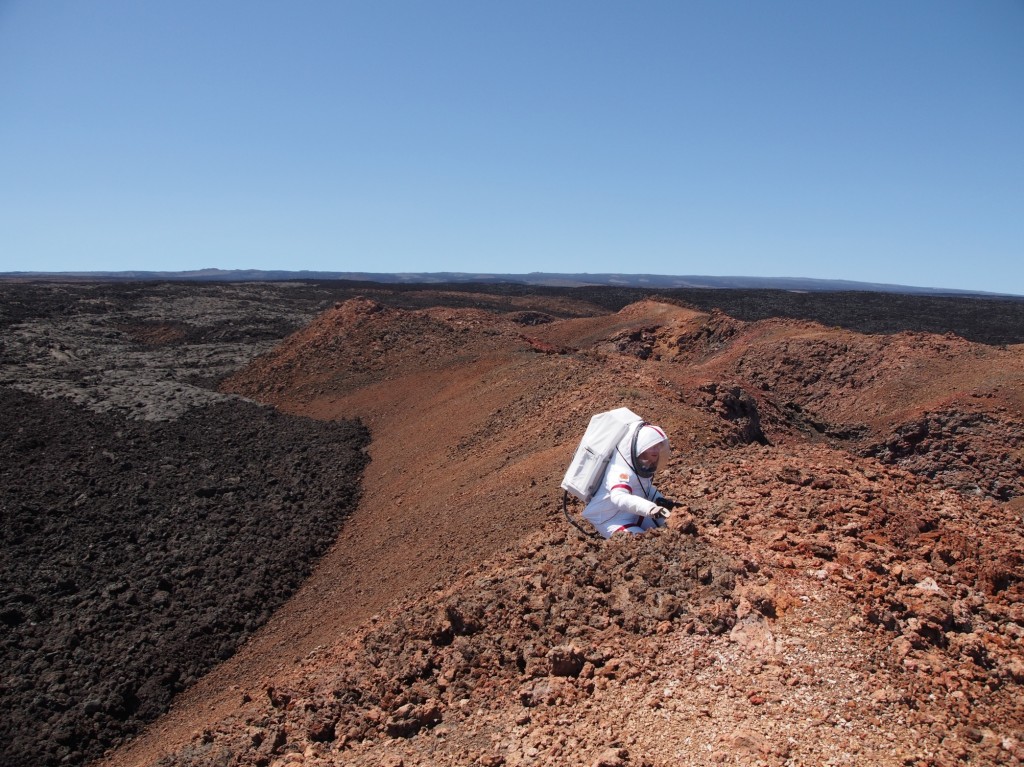 Exploration will play a large role in future EVAs, but we also plan EVAs that don't involve a lot of travel. Astronomy EVAs, for example, have been a great opportunity for the crew to test their skill at capturing astronomical events such as the recent lunar eclipse.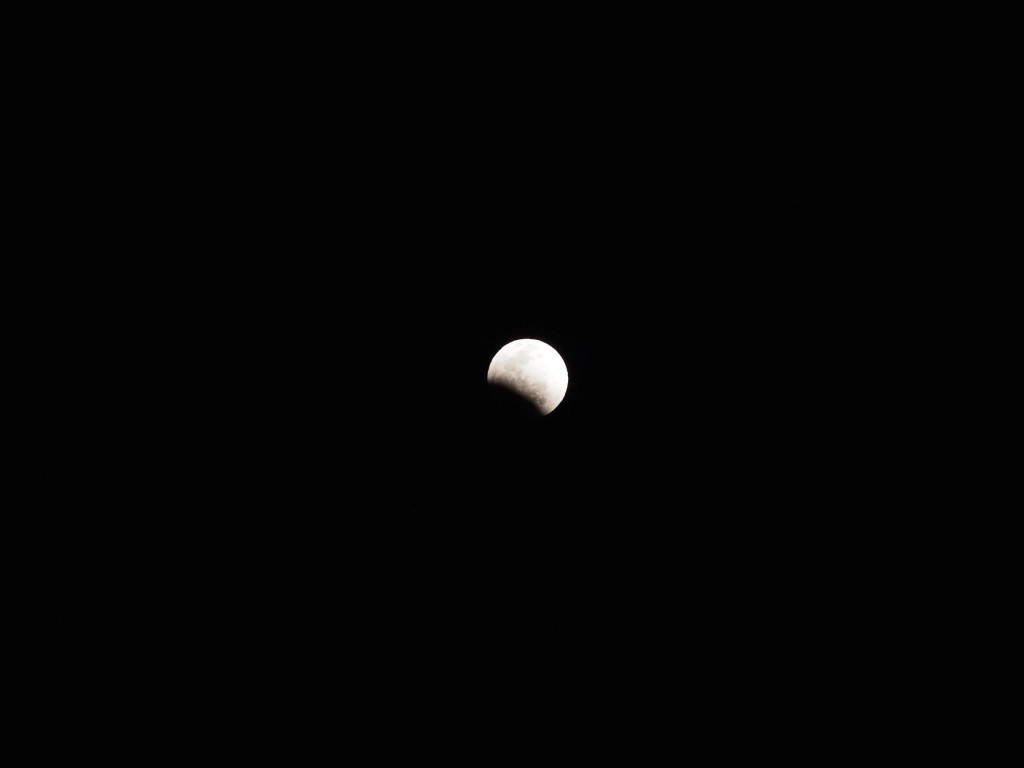 Of course, real Martian astronauts wouldn't be able to take a picture of Earth's moon the way we can, but they might try their luck at taking a photo of Phobos when it eclipsed the Sun!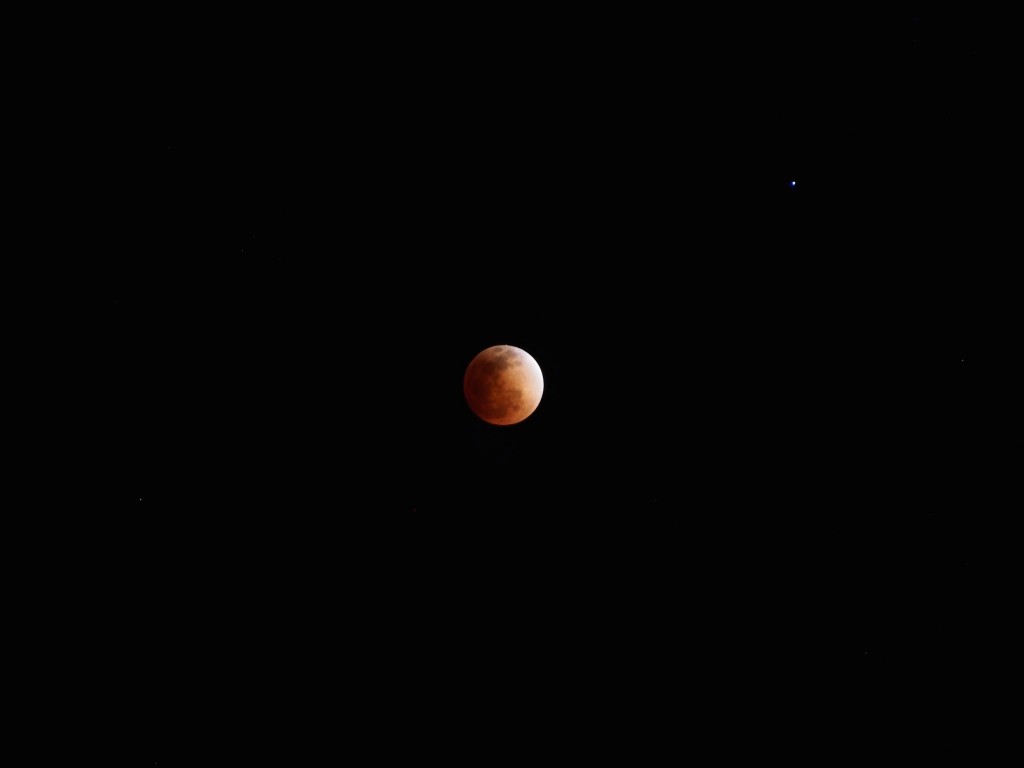 That doesn't stop us from doing some real Martian astronomy though. In the next image, you can see the moon during the recent eclipse, and if you look just above the moon you'll see a red dot: Mars!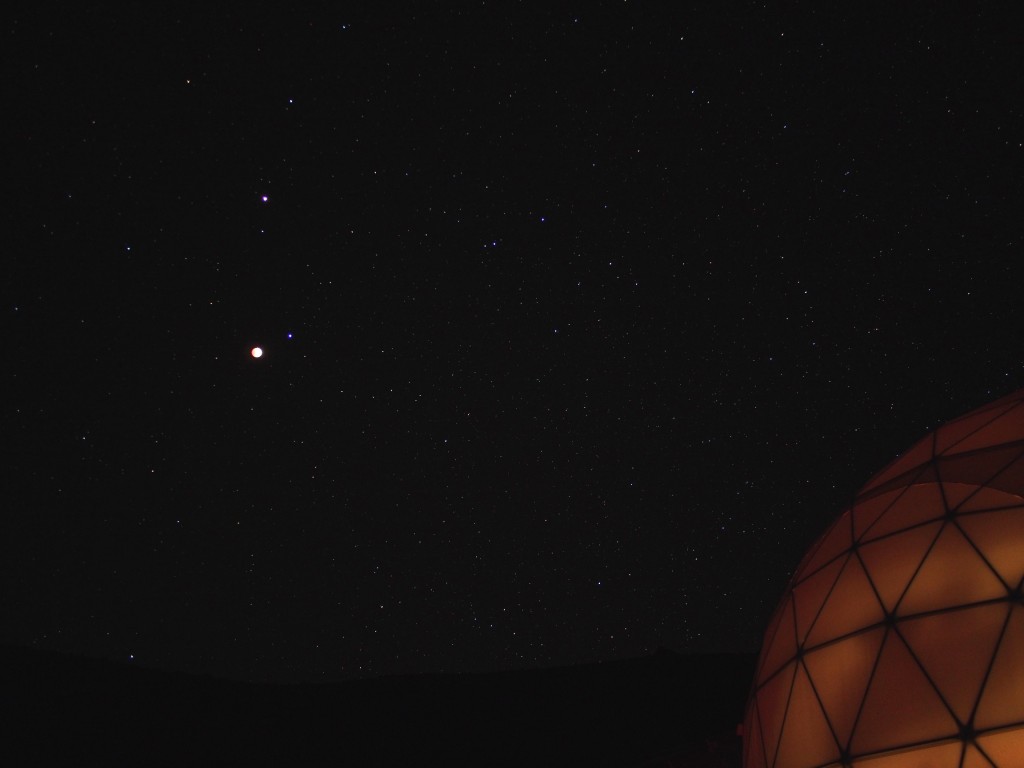 There is a particular challenge to amateur astronomy on Mars, and it's all because of the spacesuits! We can't see clearly through the domes of our spacesuits, which makes aiming our cameras a challenge. Additionally, we are wearing heavy gloves that make manipulation of the camera controls very difficult! Of course, I have come up with a solution to that problem, but I will save that for another day.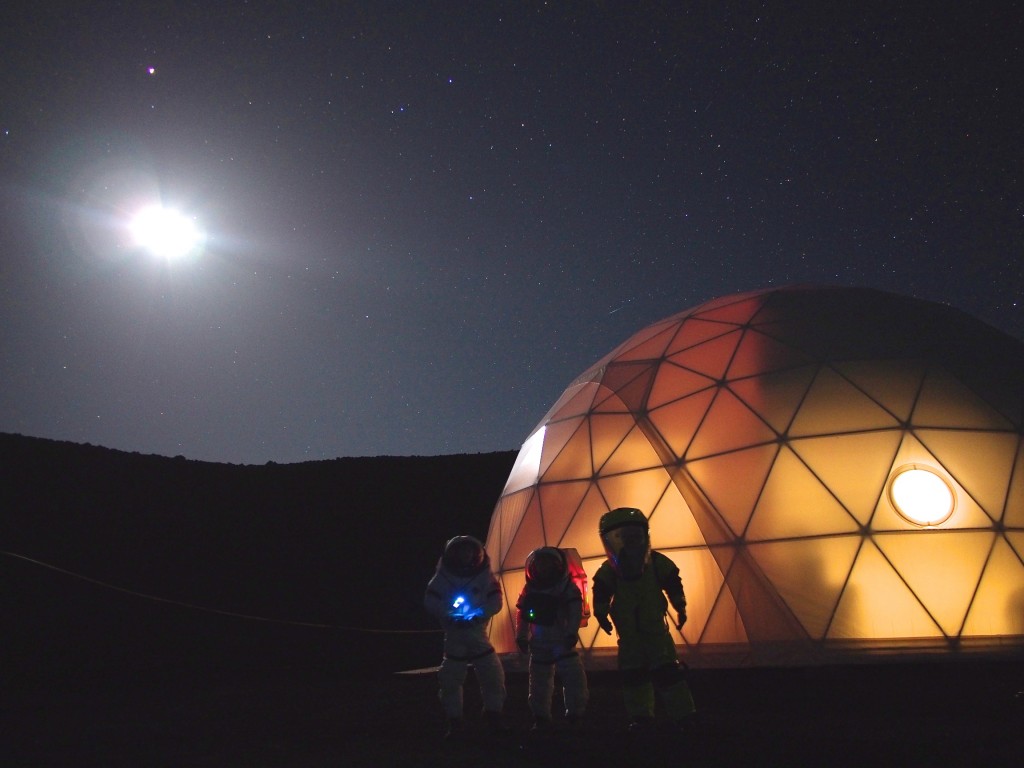 Despite the poor visibility, the astronomy EVA was the most strikingly beautiful for me. With a lower atmospheric pressure, the clarity of the night sky is astounding.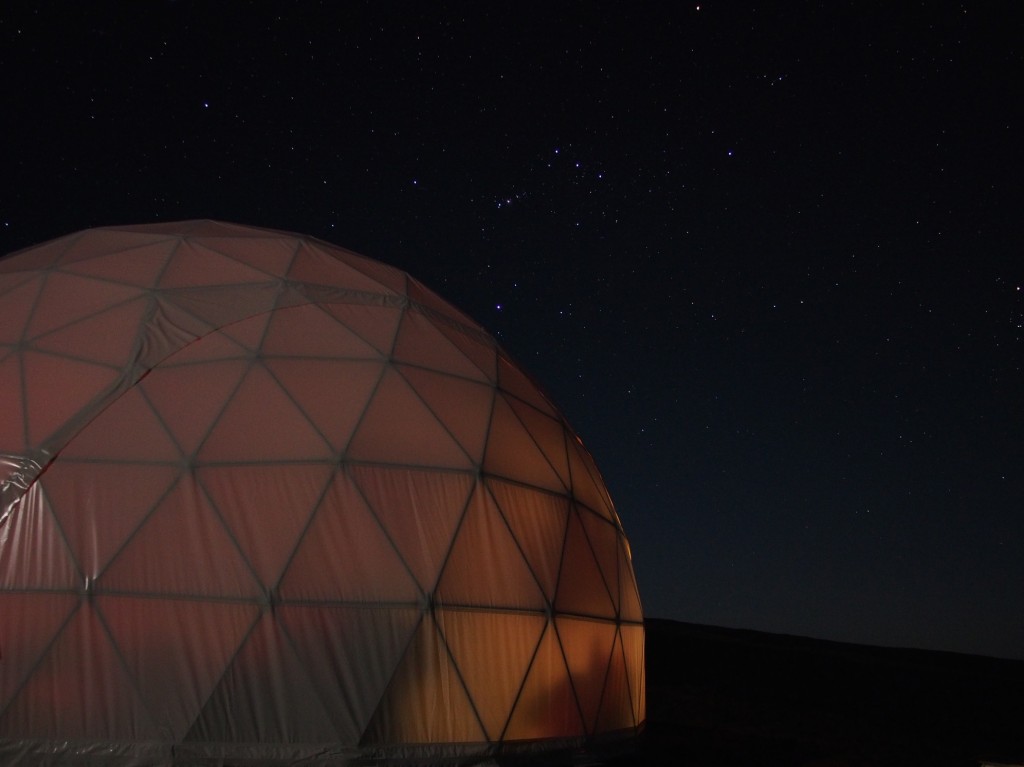 I will be planning future nighttime EVAs to capture the Milky Way, and as a little teaser, I'll leave you with this image: